Download file | Play in new window | Duration: 0:32:25
---
Love him or hate him, Tony Robbins offers some incredible insight when he says, "The ultimate failure is success without fulfillment." 
We're training to chase, achieve, and clutch onto success in our careers and relationships, but success can feel empty and hollow when it's not accompanied by fulfillment. Throughout my career, I've counseled men and women enjoying tremendous amounts of success, but so many of them were still unhappy.
Even for the most wealthy and successful people, the ones we assume "have it all," that elusive element of the human experience called fulfillment seems just out of their grasp.
By exploring the core elements of fulfillment, I hope to guide you down the path that offers the greatest opportunity to enjoy a fulfilled and successful life.

The Two Freedoms
The yearning for freedom is in our DNA, but as I learned from my mentor Dan Sullivan, we experience two types of freedom: freedom from and freedom to. 
It's freedom from that drives us to be successful. I still remember the fear that encompassed me as a young adult: the fear of being poor. The desire to escape poverty motivated me to study hard, work hard and become successful. In other words, freedom from poverty.
The majority of successful people have mastered the art of achieving freedom from. Perhaps it's freedom from dependence on others, freedom from abuse, freedom from instability or freedom from monotony. But very few successful adults realize there's more to the formula for lasting fulfillment.
We also need freedom to. This is where the magic happens, when you can finally pursue something bigger than yourself. Freedom to help others. Freedom to travel. Freedom to attend every concert, soccer game and graduation for your children and grandchildren.
Fulfillment always feels elusive until you master the question, "What does this success free me to become?"

The Essential Things
As a high-powered, fast-moving entrepreneur and leader, you know exactly what it feels like to split your attention into 100 different directions each day. When everything feels "most important," you're forced to spend every ounce of energy just to tread water.
Everything can't be important, not if you want to pursue true fulfillment. What are the most essential things in your life? I certainly can't claim to be the leading expert on this topic, but I've studied, observed, and discussed this topic enough to conclude that most people have six to eight core priorities in life: their health, finances, closest relationships, spiritual walk, reputation, and their future.
When we do as Stephen Covey advises — always keep the main thing the main thing — we can achieve focus, momentum, and fulfillment where it matters most.

The Right Thing To Measure
There is a sneaky yet fundamental strategy that most successful people never realize they're neglecting: you must measure your success in a way that doesn't sabotage your own behavior.
My brilliant mentor Dan Sullivan calls this phenomenon "the gap and the gain." The "gain" is the space between your starting point and your current self, while the "gap" is the space between your current self and your ideal self. That ideal self isn't real; it's what you aspire to become. So if you're constantly comparing yourself to that perfect, ideal version of your future self, you'll always fall short.
Think of your ideal self as the horizon, and use it to drive yourself forward, knowing you'll never actually reach it. The true journey of humanity is who you become and what you learn along the way.
So as you focus your energy on moving the needle to improve an essential "thing" in your life, remember to measure your success in a way that fuels momentum instead of defeating it. You'll spin yourself sideways if you only focus on the distance remaining between your current self and your ideal self — because no matter how much progress you make, the horizon is always still in the distance!
You can identify someone who is stuck in "the gap" very quickly. They lose perspective because they're busy measuring the wrong element of the journey: the gap instead of the gain.
Somebody stuck in "the gap" reviews company revenue that grew from $50 million to $100 million and, instead of celebrating that impressive progress, expresses frustration that revenue didn't climb to $120 million.
Somebody stuck in "the gap" misses a moment of celebration for his son's acceptance into Duke University because he's focused on the lost opportunity to attend Harvard instead. Don't rob yourself of making memories and appreciating achievements because you're so focused on what could have been.
The simple act of changing your optics will liberate you from the chains that keep you obsessively chasing an idealized version of your own life. All you need is a different perspective to pursue fulfillment, the true underlying desire of every human being.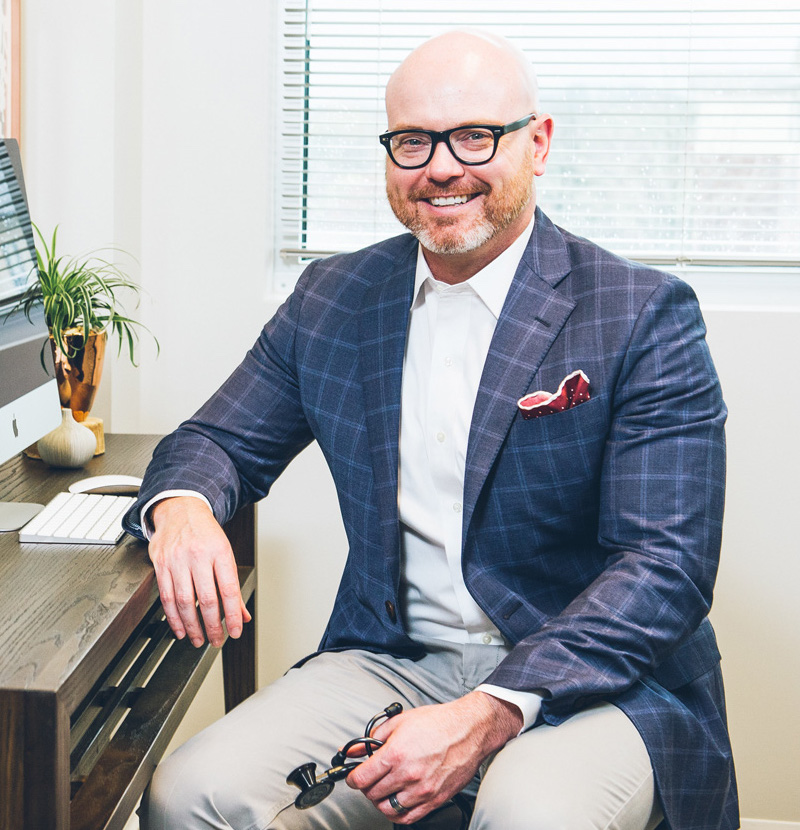 Dr. Aaron Wenzel is a concierge physician specializing in the care of fast-moving entrepreneurs, executives, and public figures in the Nashville, TN area. Dr. Wenzel's diverse life experience and extensive training in family medicine, emergency care, nutrition, and hormone replacement therapies give him the unique platform to provide unmatched care for his patients.