Americans spend $2.8 trillion on health care every year, but is it working? The U.S spends more than any other country, yet we're overwhelmed by chronic diseases and preventable deaths.
Simply put, our traditional healthcare system isn't designed to help us achieve optimal health and wellness. Too many patients are trapped in a complex and inefficient system incapable of delivering the personalized care they deserve.
Concierge medicine is emerging as a popular alternative to the traditional healthcare system. By giving power back to patients and their doctors, concierge medicine is transforming the way you can become the healthiest, most vibrant version of yourself.
What is Concierge Medicine?
Concierge medicine is a relatively new concept, but it can easily be summarized as everything that the traditional healthcare system isn't.
America's standard healthcare system forces three strangers together:
The patient
The doctor
The insurance company
Somehow, these separate entities with little in common are expected to preserve, maintain, and improve the patient's health effectively. The unfortunate truth is that the traditional healthcare system is impersonal, complicated, and inefficient.
Insurance companies have all of the power dictating how patients and doctors interact. They control which treatments doctors provide, how much money doctors make, and ultimately the quality of care patients receive.
This is a backward system!
The concierge medicine model flips traditional healthcare on its head by giving power back to patients and physicians, exactly where it belongs.
By receiving direct and personalized access to their private doctors, patients can enjoy private, customized, and efficient medical care.
When you partner with a concierge practice, you can expect a trusted advocate, friend, and professional who makes your health and wellness his/her very first priority.
What Are the Benefits of Concierge Medicine?
Concierge medicine offers many benefits that conventional practices are unable to provide.
Every year, traditional primary medical care continues to devolve into a chaotic system. Financial pressures force doctors to treat a larger number of patients rather than cultivate high-quality relationships with their existing patients.
A growing number of doctors remove themselves from the conventional system and choose to become concierge medical practitioners instead,  allowing them to better serve their patients.
Concierge Medicine Eliminates Complicated Rules
Our country's conventional medical system is controlled by a complicated list of rules that delay — and sometimes prevent — patients from receiving the care they need. These restrictions also cause healthcare professionals to spend more time and energy complying with rules than helping patients.
Concierge medical practices overcome these issues by working outside of the traditional system. Since concierge doctors aren't forced to adhere to the complicated rules of  insurance companies, they can provide the care their members need without thinking twice.
Concierge Medicine Is Quick and Efficient
Massive wait times are the bane of traditional medicine's existence. It's not unusual to wait weeks only to spend 10 minutes with your physician.
This isn't an issue for concierge medicine. Because your concierge doctor only takes a limited number of members, you can make an appointment that fits your schedule and receive the care and attention you deserve.
Time is the most valuable asset you have. We all get 24 hours in a day. No more. No less. Concierge doctors understand this, so members receive   comprehensive medical care in a more timely manner.
Concierge Medicine Cultivates a Meaningful Doctor-Patient Relationship
The  traditional health care system has a built-in vulnerability regarding insurance companies. A regular doctor's office receives a reimbursement for every patient it treats. The only way to generate more revenue is to see more patients.
Providing superior care, which should be the priority, doesn't generate more revenue. This process puts physicians in the uncomfortable—  and dangerous—  position of needing to see more patients in rapid succession.
As the patient, it also puts you at risk of being overlooked. Your traditional doctor may not notice a warning sign of disease in his/her rush to see the next patient, or he/she might not have time to consider how unique stress factors in your life could be affecting your health.
Your concierge doctor offers a unique experience rooted in a deep and meaningful doctor-patient relationship.
Since concierge doctors only accept limited number o members each year, you are guaranteed persona attention — and all the time you need — during your appointment.
Your concierge doctor becomes your health and wellness copilot. They are familiar with all aspects of your physical, emotional, and mental health. As a result, you can trust them to carefully monitor, evaluate, and treat you with personalized attention as opposed to a generic recommendation.
Concierge Medicine Ensures Quality of Care
Imagine receiving medical care in an environment where your doctor isn't watching the clock or running late to his next appointment.
Concierge care isn't forced to manipulate insurance company rules, and this makes it possible for concierge doctors to provide the highest quality care to every patient.
You can enjoy total peace of mind knowing that you're being treated by a physician who knows your name, family, lifestyle, personal struggles, wellness goals, and medical risks.
Your voice is always heard, and your doctor takes the time to carefully evaluate and treat your health. A concierge doctor is always available; even after regular business hours. They're only one phone call or text away.
Who Should Use Concierge Medical Care?
If you're not sure whether it makes sense to make the switch from traditional health care to concierge medicine, these indications will help with that decision.
Do the following ideas sound familiar?
You Want a Doctor to Dive Deeper Into Your Health
If you are suffering from a long-term health issue, or chronic problem that is impacting your quality of life, you need your doctor to do more than hand you a prescription and wish you luck.
You need a concierge doctor who is eager to dive deeper into your health, identify the root causes of your symptoms, and work with you hand-in-hand to treat your condition and improve your health.
It's not enough to simply cover your symptoms with a band-aid solution. This is why your concierge doctor will help you overcome issues that a regular physician would only help you manage.
Diabetes, cardiovascular problems, chronic pain, and other common health conditions can all be improved and even reversed with the right type of personalized medical care.
You Want a Doctor To Help You Optimize Your Health
Health is more than just the absence of disease — it's the ability to thrive and enjoy an active life. When was the last time your local primary care physician offered to help you become a better version of yourself?
If you want to do more than just treat conditions and respond "on defense" to health issues, then the concierge medicine model may be for you.
Concierge practices can help you become the healthiest, most vibrant version of yourself. This may involve improving your sleep cycle, sex drive, or nutrition with real, practical lifestyle changes.
You Want a Doctor Who Knows You By Name
Many patients who switch from traditional healthcare to concierge medicine do so out of frustration with a lack of familiarity and personal touch.
If you see the same doctor for more than a decade, but that doctor still acts like he's meeting you for the first time at every appointment, you can't possibly receive the quality medical care you deserve.
That's why concierge doctors are committed to knowing every patient by name.
When you trust a concierge doctor with your health, you know that you are being treated by a professional who knows everything about your lifestyle, background, and family history, which means you can receive the most effective personalized care.
How to Find a Great Doctor
Concierge medical practice is a growing field that continues to expand. You need to find a doctor that you can trust with your single most important asset — your health.

Choose a Doctor With Similar Values
It's important to select a doctor who shares your values on the factors most influential to your health.
Things you discuss with a potential concierge physician should include diet, sleep, hormones, relationships, prescription medications, and other concerns. By understanding what's most important, you'll be able to partner with a professional who you can trust to make decisions that align with your healthcare goals.
Choose a Doctor Who Will Listen
The best doctors don't treat their patients strictly based on objective measurements; they also listen closely to what their members have to say.
Find a doctor who believes the adage, "If you listen long enough, your patients will tell you what's wrong with them." Your concierge doctor should have the ability and desire to listen carefully to every word you say.
When you can have a full, unhurried conversation with your doctor at every visit, your health will benefit immensely.
Choose a Doctor With a Limit on Member-to-Doctor Ratios
Traditional primary care physicians must accept as many patients as possible in order to gain insurance reimbursements and turn a profit, but concierge doctors are not held to that rule.
Make sure you select a concierge doctor who understands member care comes first and has structured their practice with a strict limit on his member-to-doctor ratio.
Ask any potential doctor for his membership limit. If your doctor accepts more than 200 patients, you may want to keep looking. In order to offer the best, most comprehensive level of care, your doctor cannot split themselves between too many members.
Choose a Doctor With Convenient Availability
In the age before concierge medicine, the majority of doctors were only available between 9:00 AM and 5:00 PM. If you felt sick or had a health concern after the close of business, the emergency room and urgent care were your only options.
By finding a trusted concierge doctor, you can benefit from rapid and attentive care based on your schedule.
Most concierge members prefer to use a doctor who offers same- and next-day appointments, but the best doctors take it one step further by providing their personal mobile numbers.
They will respond to questions and problems via text or call during the evenings and weekends, or even make house calls for urgent concerns.
Why Doesn't Everyone Choose Concierge Medicine?
Concierge medicine offers numerous benefits, so why doesn't everyone choose this method of care over our conventional healthcare system?
First, concierge medicine is a new and emerging method of care, so many Americans don't know it's an option. It's only now coming to the forefront of the medical marketplace and has yet to become a household term.
Others who are aware of concierge medicine make the incorrect assumption that this medical care alternative is only for the wealthy.
While there are certainly concierge programs catered toward the extremely wealthy, there are just as many concierge doctors who seek to attract average, middle-class families.
Some adults, on the other hand, prefer to stay in the traditional healthcare system. Many of them are happy with their existing level of care and prefer not to take advantage of the types of programs available that would allow them to achieve optimal health.
The Bottom Line
Making the decision to visit a concierge doctor may just change your life.
A concierge doctor is able to provide hand-crafted care to optimize your health, while still working quickly and privately to meet your needs.
Rather than visiting a physician who is unable to take the time to get to know you, concierge medicine offers the opportunity to develop a meaningful relationship with your doctor.
Brentwood MD understands that true insight leads to optimal health, which is exactly why we offer best-in-class concierge medicine to the greater Nashville, TN area.
Our members are treated like family.
Meet with us today to enjoy the peace of mind that only comes from being connected to a compassionate physician who knows you by name.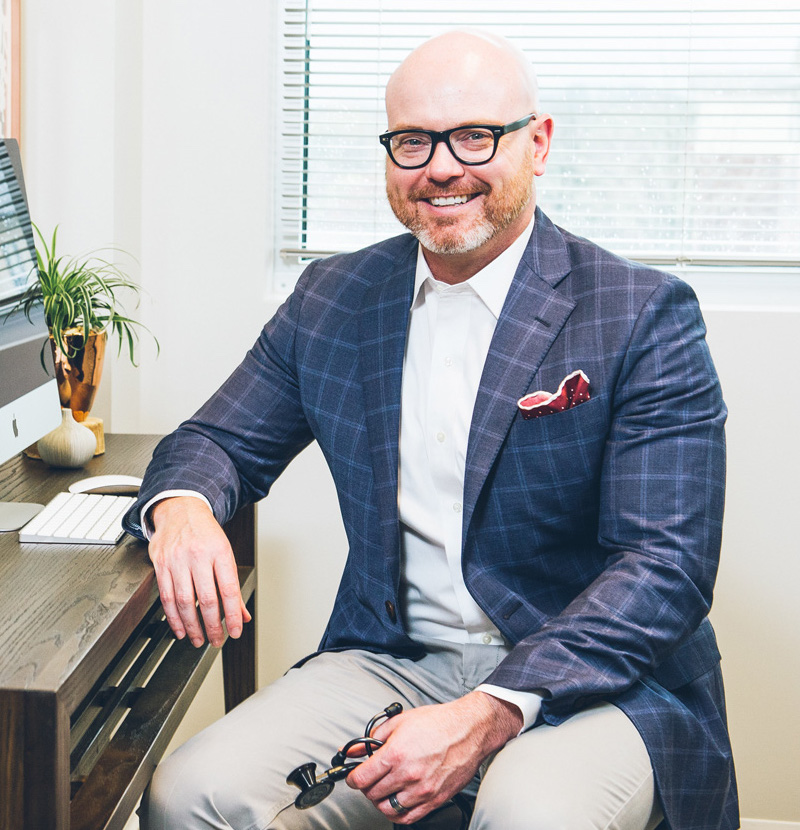 Dr. Aaron Wenzel is a concierge physician specializing in the care of fast-moving entrepreneurs, executives, and public figures in the Nashville, TN area. Dr. Wenzel's diverse life experience and extensive training in family medicine, emergency care, nutrition, and hormone replacement therapies give him the unique platform to provide unmatched care for his patients.