You deserve the best medical care from the most qualified doctors.
Does our conventional medical system make this possible for most people? Unfortunately, the answer is a resounding no.
That's why, more than two decades ago, Dr. Howard Maron founded MD2 and ignited an entirely new category of medicine now known as concierge medicine.
Since 1996, Dr. Maron and his team across the country have focused on providing intentional, comprehensive, and exceedingly personal care for their small group of patients. Yet, despite its innovations and breakthroughs over the past 22 years, concierge medicine is still not widely known or understood.
Concierge Medicine Pros and Cons
If you're frustrated by the quality of medical care you currently receive, or you're simply curious about this innovative alternative that exists, you can consider the following concierge medicine pros and cons.
The Benefits of Concierge Medicine
Concierge medicine offers many significant benefits when compared to the care of a traditional insurance-based primary care doctor. The truth is, a side-by-side evaluation makes it clear that our traditional health care system is not designed to help us achieve optimal health at all!
Advanced Care
When you visit your primary care doctor, what happens? You probably trust your doctor to evaluate your health during a standard ten minute exam. Your primary care doctor likely asks for very little input from you. If your bloodwork and vitals look fine, you're set away until next year's appointment. Most adults are so used to this routine that they don't even question it.
Concierge medicine approaches appointments differently. Beyond just checking your vitals and testing your blood work for red flags, a concierge doctor is committed to helping you improve your health, wellness, and vitality.
Just imagine your doctor saying, "Well, I've covered all of the basics, now let's talk about your personal goals. Do you need to sleep better? Improve your sex life? Lose weight and gain energy? I see here that three of your known relatives died of colon cancer, would you like to discuss preventative strategies for your colon health?"
Rather than the generic formula used by primary care doctors, concierge doctors take pride in customizing every appointment to a patient's unique and specific needs.
Shortened Response Time
What happens if you have a sinus infection, a painful rash, or a debilitating migraine? According to recent research, you may need to wait up to 24 days to be seen by your primary care physician!
The average wait time to see a physician has been slowly creeping upward the past ten years, forcing more patients to see urgent care doctors who don't know their history or personal needs.
These complications are completely eliminated with concierge medicine. One of the unique perks about seeing a concierge doctor is the ability to directly contact your doctor, day or night. Most concierge doctors offer their personal cell phone numbers and emails so that patients can ask questions or raise concerns any time.
When it comes to booking an appointment, your concierge doctor will always try to fit you in the same day, but you're guaranteed not to wait longer than 24 hours.
A Concierge Doctor Is Dedicated to Improving Your Health
Health is more than just the absence of disease, it's the ability to thrive and live an active life. When was the last time that your traditional primary care doctor offered to help you become a better version of yourself?
If you want to do more than just treat conditions and respond reactively to health issues, then concierge medicine may be for you. A concierge doctor will sit down and have a full conversation with you to see how he can help you become the healthiest, most vibrant version of yourself. This could involve improving your sleep cycle, sex drive, or nutrition with real lifestyle changes.
Compare that commitment to an actual rule enforced in many primary care systems — "Limit Questions to 2 Per Visit. All Other Questions Require New Appointment."
There's simply no way to get adequate medical care when questions are limited and time is carefully counted!
Concierge medicine offers an entirely new world of availability, communication, and dedication from doctor to patient.
Meaningful Relationship With Doctor
Providing better care, which should be the priority for all medical professionals, does not generate more revenue for primary care doctors who are forced to rely on the health insurance system. This puts physicians in the uncomfortable and dangerous position of needing to see more patients in quick succession.
As the patient, it also puts you at risk of being overlooked. Your primary care doctor probably doesn't recognize your face or know your name without looking at your chart. Even if he does, he certainly doesn't know your family, know what you do for a living, or remember your most significant health priorities.
Your concierge doctor offers a completely different experience, one rooted in a deep and meaningful doctor-patient relationship. Since concierge doctors only accept a certain number of patients each year, you are guaranteed personal attention in an appointment that can stretch as long as needed to address your health concerns.
Compared to primary care doctors that may rush through as many as 45 patients a day, concierge doctors see around five patients a day.
Furthermore, while a primary care doctor juggles up to 5,000 patients total, a concierge doctor sets a maximum between about 200 and 600 patients total.
All of this means that your concierge doctor doesn't just know your name- he's your health and wellness copilot! He's familiar with all aspects of your physical, emotional, and mental health.
You can trust your concierge doctor to carefully monitor, evaluate, and treat your health with personalized attention rather than a generic recommendation.
Faster Treatment Times
How many times have you sat in the doctor's waiting room for 45 minutes waiting to be seen, rushed through your appointment in less than 10 minutes, and then waited weeks or months for the labs, tests, and diagnostics you needed to begin treatment?
The traditional insurance-based primary care system is riddled with inefficiencies that prevent you from receiving the care you truly need.
Concierge medicine functions differently. Without frustrating and time-consuming insurance hoops and red tape causing delays, a concierge doctor can identify a problem and move immediately toward a solution.
Consider this real example of a business owner with more than 500 employees. He called Dr. Wenzel, the founder of concierge practice Brentwood MD, and scheduled a new patient appointment that same week.
Dr. Wenzel ran advanced diagnostic screenings due to his age and uncovered an aneurysm on the verge of rupturing.
Within three hours of his screening, the patient was sitting in the cardiologist's office getting an echocardiogram, and just three weeks later he underwent open heart surgery and valve replacement to repair his aneurysm.
In the normal insurance-based system, that process would have taken months. The patient would have waited three weeks just for approval for his initial advanced diagnostic screening! His aneurysm would have ruptured and killed him long before his surgery was even scheduled.
This is the power of concierge medicine!
The Cons of Concierge Medicine
With all of the benefits it provides, concierge medicine does have a few cons to consider. Patients of concierge doctors believe that the pros significantly outweigh these downsides, but you can decide for yourself.
Cost
Behind the scenes, our country's conventional medical system is controlled by a complicated list of rules and requirements that often prevent or delay patients from receiving the care they need. Never before as a culture have we been forced to pay so much for health insurance while receiving such low quality care.
Concierge medicine seeks to overcome these issues by working outside of the traditional system, and as a result, concierge doctors don't accept insurance.
This provides numerous benefits in terms of treatment choice and speed, but it also makes medical care an investment. Not everybody can afford to pay for their care out of pocket, pushing concierge medicine out of reach.
Limited Availability
The other con you might experience in concierge medicine is limited availability. Since concierge doctors only accept a certain number of patients, you may not be accepted immediately into the practice you want to use. However, you can always put yourself on a waiting list. After all, such personalized, high-quality care is definitely worth the wait.
The Bottom Line About Concierge Medicine
Traditional insurance-based primary care doctors and concierge doctors use dramatically different models of care to help their patients. Though concierge medicine isn't for everybody, it offers unique and undeniable benefits that have the potential to transform your quality of life and longevity.
If you are curious and want to explore the difference that concierge medicine can make in your life, why not give it a try? If you don't like it, you can easily return to your primary care physician.
However, with the impressive benefits provided by concierge medicine, most patients don't return to the traditional system. Rather than visiting a doctor who barely knows you, concierge medicine offers the opportunity to develop a meaningful relationship with your doctor.
Brentwood MD understands that true insight leads to optimal health, which is exactly why we offer best-in-class concierge medicine to the greater Nashville, TN area. Our members are treated like family.
Meet with us today to enjoy the peace of mind that only comes from being connected to a compassionate physician who knows you by name.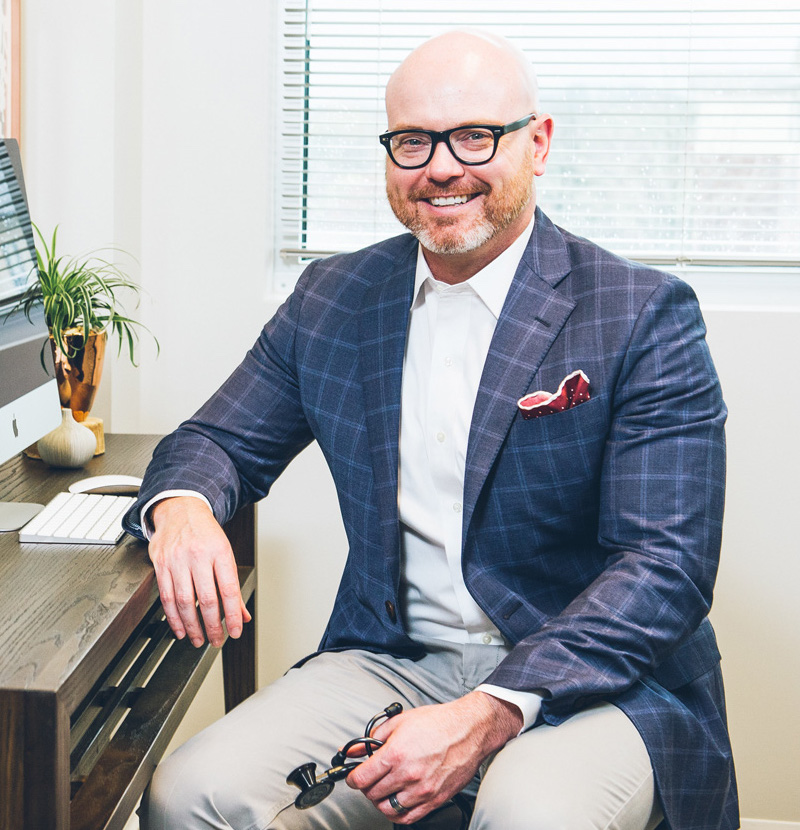 Dr. Aaron Wenzel is a concierge physician specializing in the care of fast-moving entrepreneurs, executives, and public figures in the Nashville, TN area. Dr. Wenzel's diverse life experience and extensive training in family medicine, emergency care, nutrition, and hormone replacement therapies give him the unique platform to provide unmatched care for his patients.