In the traditional healthcare model, everything revolves around the annual physical. If you're proactive about your health, regular check-ins with your primary care doctor are the cornerstone of your physical well-being.
Unfortunately, the level of personalization needed at those routine appointments just isn't an option in the traditional healthcare model. That's part of the reason we founded Brentwood MD in the first place. When physicians have to see 40 people a day and 3,000 to 5,000 patients a year, the variable that gets squeezed out is personalization.
Typically, annual physicals in the "population health" model look like a broad brush over a wide range of tests. The typical physician will do routine bloodwork — a CBC, blood chemistries, cholesterol tests, and likely some diabetes screening labs. You'll update the list of any medications you're taking and talk about any events that happened over the last year. With that context, your physician will review your tests and say, "Everything is fine," or, "Hey, your cholesterol is out of whack. Let's increase this medicine."
These physicals provide high-level data points, but they don't tell the whole story. Our goal at Brentwood MD was to create a far more bespoke, personalized medical experience. As an extension of our beliefs, we thought our members deserved something better than a generic, formulaic, routine medical experience.
That's where our executive physical came from.
The executive physical includes history gathering, goal outlining, a deeper look into many of the most common illnesses (metabolic disease, depression, etc.), and a personalized plan to address issues before they turn into full-fledged diseases.
Initially, we offered executive physicals to everyone, both to our members and to non-members. Right away, they were a huge hit. They provided a great amount of value, and people started referring their friends and family to us. We even had a number of large corporations ask us to do these physicals for their executive teams.
Non-members started coming to us out of the blue and saying, "I'm really interested in that physical you offer — without the concierge membership. All I want is a really great physical every year."
We thought that made sense. Those people probably weren't getting a very thoughtful or comprehensive physical experience. And we're really good at doing what we do, especially in the onboarding portion of our care. Why not offer the executive physical to everyone?

The Shortcomings of a One-Off Executive Physical
The thing is, while we were excited to meet this need in the beginning, it quickly became clear that there was a larger problem.
Companies hired us to do a deep dive into individuals who hadn't had good health care in a while. Because of how deep we dug, we almost always found something that needed to be worked on beyond a singular exam.
When we gave these patients an action plan based on their executive physical results, they'd bring it back to the very healthcare team (or lack thereof) that led them to come to us in the first place. How could we expect them to execute this personalized medical plan successfully once they left their session?
We couldn't.
They'd come back to us and ask us to help them implement these plans — which, of course, we did. But as we got busier, we realized we couldn't continue to provide that kind of extended care to non-members. We were too busy helping the members who actually pay us to take care of them long-term.
Significant problems occurred when we ran these executive physicals and find something scary. There was a real moral and ethical dilemma at that point: because the person only wanted us to do their physical, we didn't have permission to be their source of primary care, but we also couldn't refuse to help them with whatever issue we uncovered.
The questions became, "What do we do with this person now that we've found an unstable aneurysm ready to rupture?" "What do we do with this person who has raging diabetes, or a risk of heart disease, or symptomatic chest pain?"
While some of our executive physical patients had the resources and healthcare teams in place to go back and respond to our findings and execute our strategy, many of them didn't. They said, "I have a primary care doctor, I just can't get in to see them anytime soon," or, "I don't have a primary care doctor. This is the first physical I've had in eight years and I don't have anywhere else to go."
Every physician takes an oath to "Do no harm" when they start medical school — it's known as the Hippocratic oath. It felt like a violation of the Hippocratic oath to only give these people a diagnosis. We felt we were doing them harm.
We obviously took care of these patients and saw their care through to the end. I will always do my best to see an issue through and finish what I've started, but I can't knowingly foster a program that puts my team in an ethical dilemma.
The more the market wanted these one-off executive physicals, the clearer it became that we were going to have to stop offering them to non-members. Today, if we don't have a relationship with the patient, we don't do them.
What Does the Perfect Physical Consist Of?
While it may be disappointing that we don't offer one-off executive physicals for non-members anymore, we are eternally bullish on an executive-type physical in the context of a healthy, vibrant primary care relationship.
This is exactly how we treat our members — with a hand-crafted and thoughtful approach to risk stratification, health optimization, and disease prevention. We're able to benefit from our ongoing relationships and see issues through to resolution.
At Brentwood MD, we believe health care should be neither transactional nor generic — and we aren't either of those things. while we could give you a handcrafted, one-off executive physical, it would be transactional by definition.
Your entire health journey is made up of many data points. An executive physical is just one of them. It's a snapshot in time once a year, and if you aren't a member, that snapshot has no precedent or follow-up. It may feel good to get these done, but it's our experience that it leaves far too many patients in a dilemma.
A one-off executive physical really highlights how bad of a situation someone may be in with their current health team. Often, they don't have a health team in the first place, or they've missed an opportunity to get treated earlier and more aggressively — and they likely don't have anywhere to go to correct things.
In a world full of superficial hyper-connectivity and countless data points on our health, we're all starved for meaningful relationships and wisdom that help us lead happier, healthier, more vibrant lives.
There are consequences to transactional-based health relationships, but we're committed to taking a different approach that allows us to provide world-class care.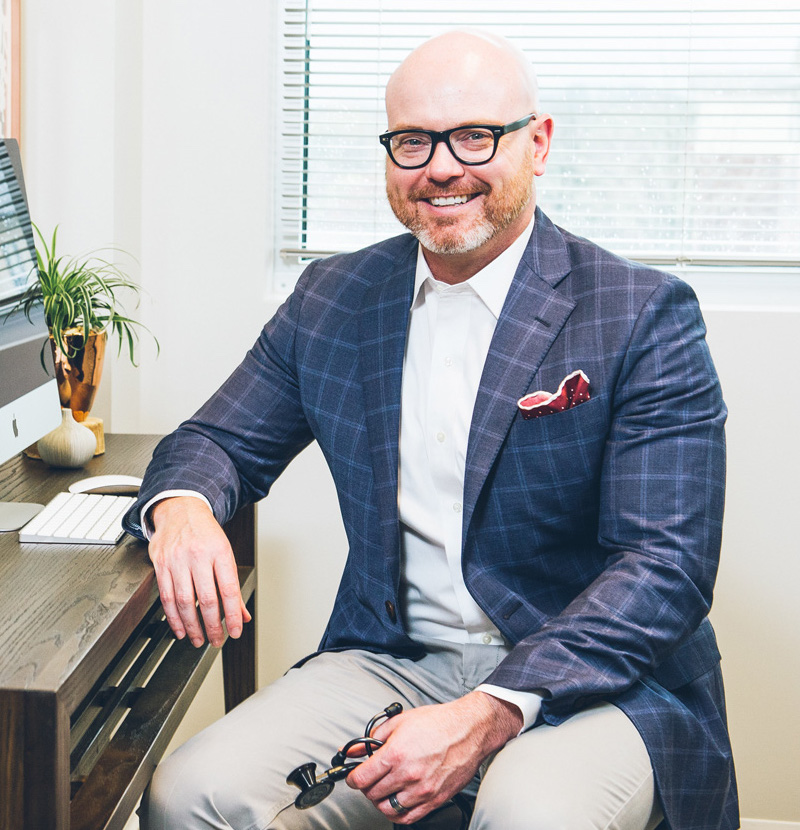 Dr. Aaron Wenzel is a concierge physician specializing in the care of fast-moving entrepreneurs, executives, and public figures in the Nashville, TN area. Dr. Wenzel's diverse life experience and extensive training in family medicine, emergency care, nutrition, and hormone replacement therapies give him the unique platform to provide unmatched care for his patients.