Download file | Play in new window | Duration: 00:28:39
---
We're living in the information age, where almost any question can be answered with a split-second Google search.
Except for questions about your own body and health.
Those answers are more elusive, and not even Google can tell you how your blood sugar levels impacted your quality of sleep last night.
Until now.
Wearable health technology is changing everything we thought we knew about health tracking, data, and treatment. It's bringing us to the next level of the "quantified self" by allowing us to make critical and powerful decisions about our health based on real-time data.
When it comes to strategic health hacks, there's nothing more powerful than wearable health tech.
What Is Wearable Tech?
We're all familiar with the Fitbit, the wearable tech that started it all. The original Fitbit launched in 2009 as a wireless-enabled device that clipped to your clothing to track movement, sleep, and calorie burn.
Over ten years later, wearable technology has significantly evolved to include different watches, bands, rings, patches, and scales. Though all of these devices perform unique functions with varying benefits, they perform the same core purpose: to convert our physiology and biochemistry into trackable digital data.
This data can be interpreted to assess your Key Health Indicators (KHIs) and help you focus on the real pillars of longevity. Think of your Key Health Indicators as KPIs for your body.
The Pace of Healthcare Before Wearable Tech
Imagine being forced to plan for next year's business growth using nothing but last year's tax return. That's exactly what doctors have been forced to do in the past with a once a year checkup.
Just like your business relies on accurate, real-time data to measure performance, you need the latest data to determine what changes need to occur with your health and why.
Before wearable health technology, doctors didn't have daily, weekly, or monthly data to help their patients make the best and most strategic healthcare decisions. They relied upon a battery of basic tests that only revealed problems after they became urgent.
The Vast Potential of Wearable Tech
Wearable healthcare technology allows you to make highly targeted, data-driven decisions about your health in real-time, all with technology that's unobtrusive and passive. Such customized tracking has never been possible to scale until now!
The 3 Most Important Things to Track with Wearable Tech
Wearable tech makes it possible to track and collect hundreds of different data points, but you don't need to worry about all of them initially. If you do, you'll risk missing the forest for the trees.
There are three critical key health indicators that you need to start tracking initially. I consider these three markers to be the pillars of vibrant health and longevity.
Glucose Levels
If you've listened to any of my other videos and podcasts, you know that I consider balanced glucose levels to be the holy grail of health. So I can't overstate the immense value of using wearable technology to measure—with total certainty and accuracy—the behaviors and patterns of your glucose levels.
I call this constant glucose monitoring (CGM). It's the process of tracking your sugar or glucose data in near real-time using wearable technology. Every five minutes, sensors passively gather your blood glucose levels to give you the ultimate optical window into your metabolic health.
Sleep
As a physician who has spent a decade working overnight shifts in the ER, I know firsthand the profound effects of poor sleep patterns. Our culture is finally beginning to recognize sleep's role in overall wellness.
Using wearable health tech, you can track your sleep habits in a predictable and non-invasive manner. You'll gather critical data about what you are doing, how long you're doing it, and more.
Activity Tracking
Physical activity isn't the only important factor to lasting health, but it's an important ingredient. Wearable health tech makes it easier than ever to measure your activity output and see how it impacts other metrics.
This is especially important in our modern society, where there's a disconnect between mental activity and physical activity.
As an executive or entrepreneur, you push your mind to the limit every day, but often without moving your body. Wearable tech helps us identify and remedy this contradiction.
Putting It All Together
What happens when you combine tracking glucose levels, sleep habits, and activity levels? These three health pillars interact to create a profound and dynamic impact on your health.
Busy executives, successful entrepreneurs, and so many others who are living a fast-paced lifestyle can use wearable tech to capture invaluable data without any extra effort or inconvenience on their part. 
I recommend beginning with a "Starter Kit" including one device to measure blood glucose, one device to evaluate sleep, and one to capture activity data. Doing so gives you optics on your blind spots and helps align your perceptions with reality.
Wearable Tech to Measure Glucose Levels
The Dexcom 6 is the best glucose monitoring technology on the planet, but it's only a realistic option for people with type 1 diabetes.
For everybody else, I recommend the Freestyle Libre. This continuous monitoring sensor is worn on the back of the upper arm and only needs to be replaced every two weeks. It syncs to your smartphone to provide data whenever you need it.
Wearable Tech to Measure Sleep and Activity
There are so many other new and innovative wearable tech solutions to measure sleep and activity. I recommend the Oura Ring for sleep and the Apple Watch for activity, but you may have different preferences.
It's most important to select wearable tech choices that feel natural to you.
If you never wear a watch and don't like the feel of a device around your wrist, the Apple Watch wouldn't be a good choice. Try to select items that you can integrate easily into your lifestyle so that data collection becomes passive and nearly mindless.
Interpreting and Using Your Data
Wearable health technology isn't just a fad that I like to discuss. It's a groundbreaking trend that I'm always exploring and adjusting.
Wearable tech goes beyond the devices themselves and begs the question: now that we have this data, how should we use it? 
You need a healthcare advocate to help you interpret your data and properly use it to improve your health. This is exactly why we've developed our own wearable tech platform at Brentwood MD. It collects the various data points from your wearable devices and overlays the information to form the bigger picture.
Rather than jumping from app to app and hoping to discover insights, our Brentwood MD app supports comprehensive data interpretation so that you can gain the insights and advice you need to achieve lasting wellness. 
If you want to make 2021 a meaningful and productive year, use this time to learn what wearable tech means for you. By tracking these critical metrics, you'll gain unprecedented insight into the way you feel, how you live, and what needs to change.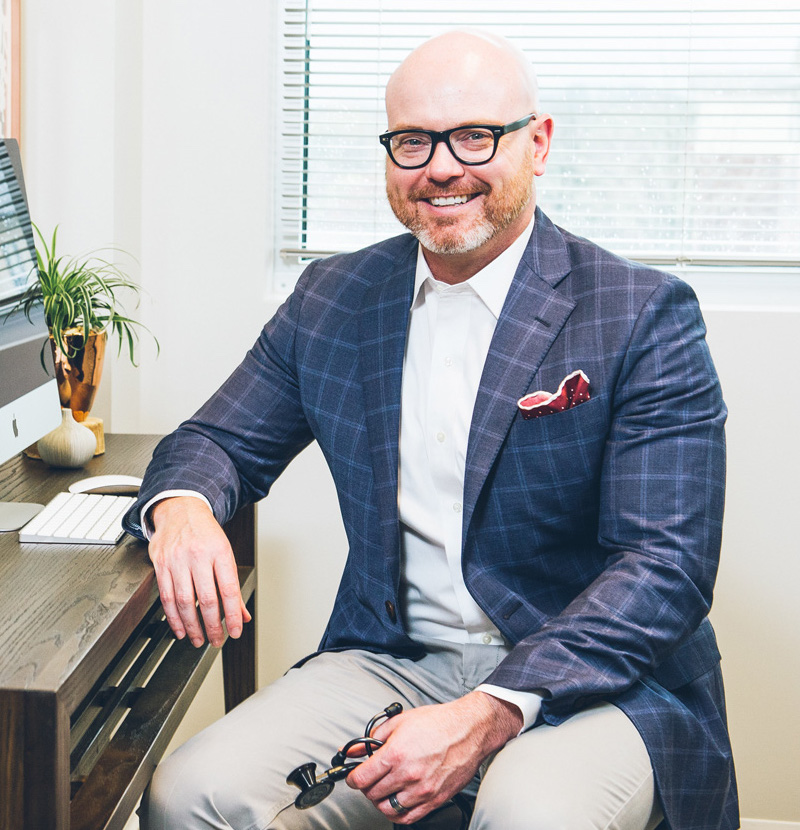 Dr. Aaron Wenzel is a concierge physician specializing in the care of fast-moving entrepreneurs, executives, and public figures in the Nashville, TN area. Dr. Wenzel's diverse life experience and extensive training in family medicine, emergency care, nutrition, and hormone replacement therapies give him the unique platform to provide unmatched care for his patients.